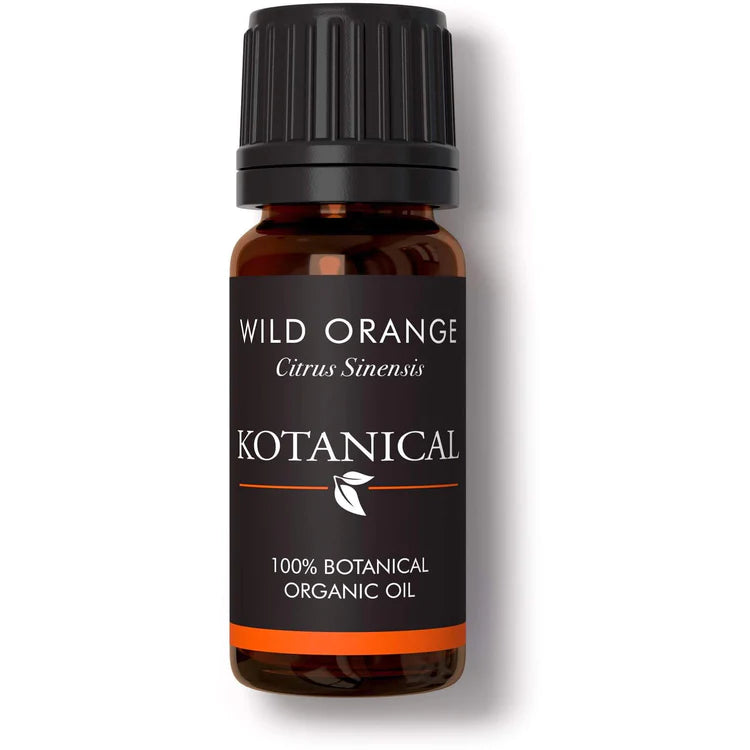 Wild Orange Essential Oil by Kotanical -10ml
Regular price €12.00 Sale
Wild Orange Essential Oil
Wild orange with its sweet citrusy notes lifts moods and reduces stress, and can also support pain relief. With a fresh and vibrant aroma, you will be transported to a place of warmth and joy.
The peel of the wild orange fruit is cold-pressed in Italy to create this refreshing citrusy scent. With strong zesty properties, this essential oil is like liquid sunshine, transporting you to a warm orange grove in Italy. The relaxing element of this essential oil comes through the bright notes which bring joy and relieve tension.
A popular scent in home cleaning products and air fresheners, this cheerful aroma will leave your home smelling fresh, and the benefits of the essential oils will leave you feeling rejuvenated.
Citrus oils are also beneficial when used in personal and skincare products as they have brightening qualities as well as being anti-inflammatory, helping you to reduce puffiness, look and feel brighter, with a fresh fruity lingering aroma.
NOTE DESCRIPTION
HOW TO USE
Diffuse: add 10-15 drops of essential oil – on its own or as part of a blend with other oils – to 100ml water in a Kotanical stone oil diffuser.
Inhale: add 4-12 drops of essential oil to steaming water – in a bowl or as part of a facial steamer – and inhale deeply for up to 10 minutes.
Massage: add 2 drops of essential oil to 4tsp of carrier oil such as coconut, almond, jojoba, grapeseed or olive oil.
Topical: add 3-5 drops of essential oil to 2tsp of carrier oil such as coconut, almond, jojoba, grapeseed or olive oil.
PRODUCT QUALITY
All Kotanical essential oils contain 100% organic essential oil – free from sulfates, parabens, phthalates, synthetic fragrance, formaldehydes, and mineral oil, with a shelf life of 1-2 years.
The organic essential oils are vegan-friendly and certified cruelty free by the leaping bunny program.
The glass bottles are recyclable or you can return them to us and we will get them back to Kotanical to be sanitised and reused.

Country of Origin - Italy | Extraction - Cold expression
Part of Plant - Peel