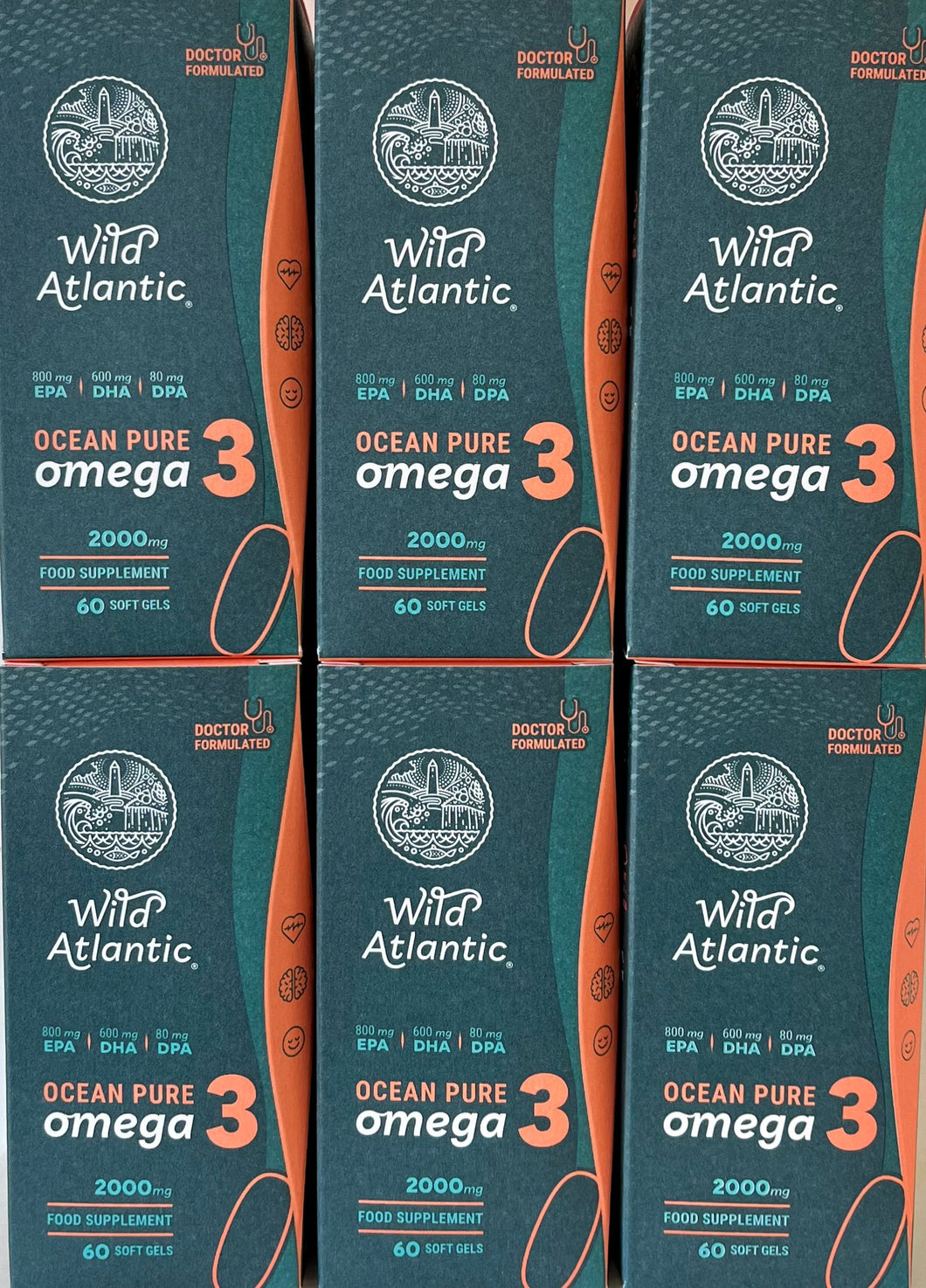 Test Kit for Omega 3 by Wild Atlantic
Regular price €39.00 Sale
We are delighted to stock Wild Atlantic products. Not only are they produced in Ireland, the bottles are compostable.
Ocean Pure Omega-3 has 3 times the levels of EPA & EPA compared to ordinary omega supplements. Low levels have very little impact on your health or your Omega-3 index. Super-strength also contains the 'missing Omega' DPA for optimal metabolic results. Wild-caught, our anchovies are always sustainably sourced from the coldest waters. With the lowest levels of oxidation and contaminants and full traceability from Friends of the Sea, this is the purest, most potent Irish brand available on the market.
Serving size: 2 soft gels     Servings per container: 30
Contains 2000 mg of pure fish oil from anchovies. 
EPA: 800 mg  |  DHA: 600 mg  |  DPA: 80 mg 
Astaxanthin: 2 mg  |  Vitamin D3: 13 μg  |  Vitamin E: 200 mg
Other ingredients: sunflower lecithin, lemon aroma (natural)
Capsule composition: fish gelatine
SUGGESTED USE: Take 1-3 soft gels daily with fat containing meals. Not a substitute for a varied, balanced diet. Do not take if allergic to fish or exceed the maximum daily dose of 5000 mg per day. Consult your doctor if on blood thinners or pregnant.
Most of us are not getting enough Omega-3s

Let's face it understanding Omega-3 labels can be confusing. The bottom line is that 95% of us aren't getting enough Omega-3 and 4 out of 5 people taking them aren't seeing the results when they test their Omega-3 Index levels.
At Wild Atlantic, they set out to solve this problem by creating a science-based Omega with the potency and purity to bring about health improvements and real results which they are willing to stand over. We've also added D3 and Astaxanthin, a super-antioxidant and lecithin which helps get DHA into the brain.
Omega-3 fatty acids are critical for our most vital organs - the heart & brain. They help fight inflammation, support our microbiome, keep our cell membranes flexible while promoting healthy cell signalling. Wild-caught in natural r-triglyceride-form fish oil from, smaller anchovies have fewer contaminants and support excellent absorption.