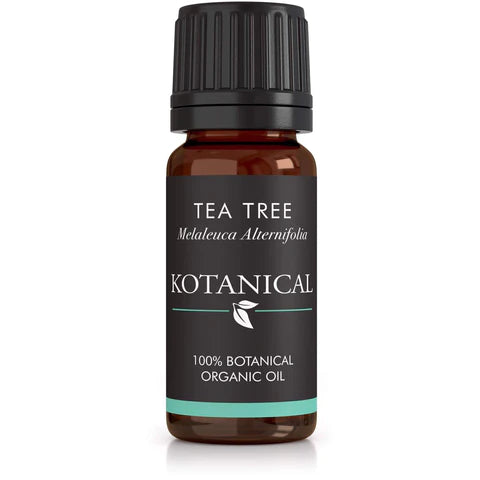 Tea Tree Essential Oil by Kotanical -10ml
Regular price €14.00 Sale
Tea Tree Essential Oil
Tea tree essential oil is well known for being a decongestant, supporting respiratory ailments, as well as having antibacterial and disinfectant properties.
A popular ingredient in personal care products – including haircare and skincare – the essential oil comes from steaming Australian tea tree leaves. With anti-fungal, anti-inflammatory and anti-bacterial properties, tea tree is used to address many personal ailments including oily hair, dry scalp, itchy skin, acne, fungal infections and more. As well as addressing the problems with tea tree, the strong aroma lingers for a feeling of cleanliness.
Tea tree is also a popular addition to home cleaning products, further expanding the association between the tea tree aroma and a feeling of cleanliness.
For respiratory conditions, tea tree can either be used topically, applied to the chest, or inhaled through a steam bath. Popular decongestant products have leveraged the beneficial properties of tea tree and it has become one of the most mainstream essential oils on the market.
NOTE DESCRIPTION
HOW TO USE
Diffuse: add 10-15 drops of essential oil – on its own or as part of a blend with other oils – to 100ml water in a Kotanical stone oil diffuser.
Massage: add 1-10 drops of essential oil to 2tsp of carrier oil such as coconut, almond, jojoba, grapeseed or olive oil.
Topical: add 5-10 drops of essential oil to 10ml of carrier oil such as coconut, almond, jojoba, grapeseed or olive oil.
PRODUCT QUALITY
All Kotanical essential oils contain 100% organic essential oil – free from sulfates, parabens, phthalates, synthetic fragrance, formaldehydes, and mineral oil, with a shelf life of 1-2 years.
The organic essential oils are vegan-friendly and certified cruelty free by the leaping bunny program.
The glass bottles are recyclable or you can return them to us and we will get them back to Kotanical to be sanitised and reused.

Country of Origin - Australia  | Extraction - Steam distillation
Part of Plant - Leaf
(Avoid use around Animals)