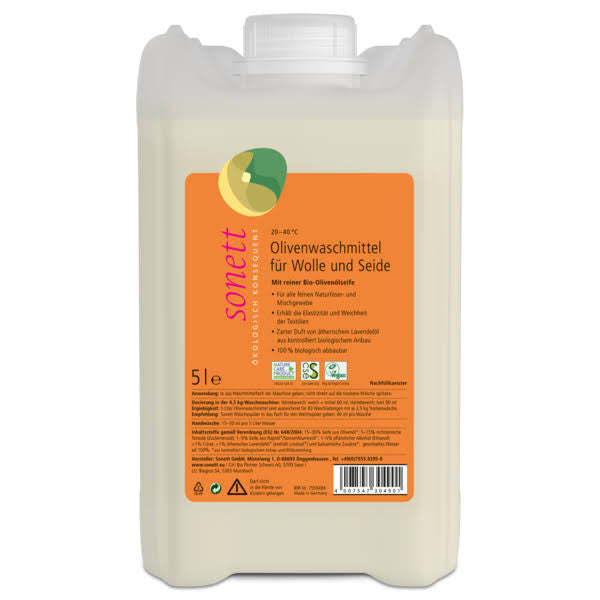 Sonett Wool & Silk Laundry Liquid with Pure Olive Oil - 100ml
Our Summary: Sonett are an amazing range of cleaning products. You will love the delicate fragrances as well as the powerful cleaning ability - but the most amazing part is they have worked out a way to renaturise the waste water so that it isn't harmful to the environment. A total win win for everyone!
Doing the laundry, cleaning and washing are essential to everyday life - but they do pollute water. There can be many harmful ingredients in mainstream cleaning products including synthetic fragrances which can cause allergies and damage to the environment. Sonett are an ecologically conscious range of cleaning products that help protect nature - especially water - and are skin-friendly and economical to use. They are passionate about protecting natural water resources by using completely biodegradable raw materials that increase the cleaning performance of the water, while focusing on its reintegration afterwards to biodegrade naturally in the environment. 
For all fine fabrics made from natural fibers and blended fabrics 
Maintains the elasticity and softness of the textiles
Delicate scent of essential lavender oil from controlled organic cultivation
100% biodegradable
For delicate laundry, wool and silk up to 40 ° C; in the washing machine and for hand washing. Valuable pressed olive oil is processed into a soap in this product, which has excellent cleaning, caring and moisturizing properties for textiles made of wool and silk. With the help of the sugar surfactant, a soap-based mild detergent is created that is easy to handle even with hard water and retains all the positive properties of a soap detergent. The olive oil, rapeseed oil and sunflower oil as well as the essential lavender oil are 100% organically grown.
Olive soap: The fruits come from centuries-old olive groves in the Mediterranean region of Italy, Spain and Greece, from which the olive oil is obtained in controlled organic quality using mechanical processes such as pressing and centrifugation. Saponified with potassium hydroxide, it forms the main component of Sonett's olive detergent for wool and silk. Olive oil is the best oil raw material for a mild, moisturizing soap. Its balanced fatty acid composition, its healing, balancing effect on the heart and circulation and the remarkable development of the olive tree every 7 years show the special closeness and relationship of this oil to humans.
Rapeseed oil soap / sunflower oil soap: vegetable oil saponified with potassium hydroxide strengthens the washing power. Rapeseed, flax and sunflowers are among the few oil crops that are grown for oil production in our temperate Central European climate, also of controlled organic quality.
Ethanol: Made by fermenting starchy plants such as corn and potatoes. Ethanol helps to keep the soap liquid and at the same time improves the detergent's ability to dissolve grease.
Sugar surfactant: Sugar, starch and coconut fat are the raw materials for the sugar surfactant used. The proportion of sugar surfactant is matched to the soap content of the detergent in such a way that it is used to keep the calcium soap that forms in hard water in suspension and to prevent it from settling on the laundry.
Ingredients (INCI)
Aqua, Potassium Soap *, Alkylpolyglucoside C8–16 (Coco Glucoside), Alcohol, Sodium / Potassium Citrate, Parfum *, Linalool *   *certified organically grown
Benefits for You and the Environment:
All ingredients come from 100% biodegradable vegetable and mineral raw materials.  
High proportions of raw materials are from biodynamic or controlled organic cultivation.
All Sonett products are free from enzymes, petrochemical surfactants, synthetic fragrances, colourings and preservatives, genetic engineering and nanotechnology.
All fragrances are from pure natural essential oils that are 100% organically grown.
All ingredients are fully declared and certified according to one of the world's highest standards: NCP (Nature Care Product) for ecological detergents and cleaning agents and NCS (Natural Cosmetics Standard) for ecological cosmetics and body care.
Therefore, all Sonett products are extremely skin-friendly and suitable for many allergy sufferers.
Vegan society approved.
The Unique Quality of Sonett Products :
The treatment of water plays an essential role at Sonett. All of the production water (currently approx. 10,000 l per day) is passed through a swirl system. The water flows without pressure through 12 egg-shaped glass vessels and accelerates to funnel vortices to give it back to same energy as pure spring water.
Sonett are also social pioneers: the labelling of many of the Sonett products is carried out by special needs communities close by. Sonett is based on  partnership principles and has been transferred to a Non-Profit Foundation. Vegan Society certified.
Suitable for septic tanks and filtration systems.