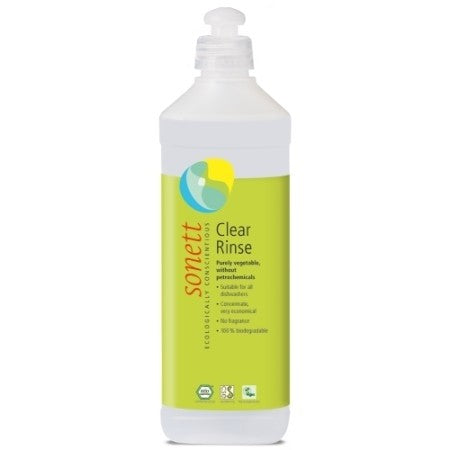 Sonett Dishwasher Rinse Aid 100ml
Please note this is a refill product and does not come in the container shown. Liquids cannot be delivered by courier.
Purely vegetable, without petrochemicals.

Suitable for all dishwashers
Concentrate, very economical
No fragrance
100% biodegradable
Dosage
Fill Sonett Clear Rinse into the rinse aid compartment of the dishwasher. Always keep the rinse aid compartment replenished. The setting, if from 1-6 for example, should be between 2 and 3 in regular cases.


Note
If a streaky coating appears on the crockery, it means that too much Clear Rinse has been added. In case of isolated whitish limescale stains appearing, increase the dosage of Clear Rinse.



List of ingredients as per EC 648/2004
Aqua, alcohol, sulphated castor oil, alkylpolyglucoside
C8–C16 (coco glucoside)



Origin and properties of the ingredients

Ethanol, obtained by fermenting starchy plants such as potatoes, and sulphated castor oil, derived from direct reaction of castor oil with sulphuric acid, reduce the surface tension of the water during the final rinse cycle, thus making the water drip off the dishes more easily. Sugar surfactant made from coconut oil and maize starch intensifies even more the surface-tension-reducing effect.

Biodegradability
                                                                                                                            
Ethanol is also present in nature in small quantities.
Once in waste water, it is quickly and 100% degraded into carbon dioxide and water. In the manufacturing process of sugar surfactants, constituents of sugar and fat are connected in such a way that the internal molecular structure remains intact. It is, therefore, easy for microorganisms to decompose these surfactants quickly and completely. Sugar surfactants, vegetable alcohol, and sulphated castor oil are classified as being readily biodegradable according to OECD guidelines.



Suitable for septic tanks and filtration systems.