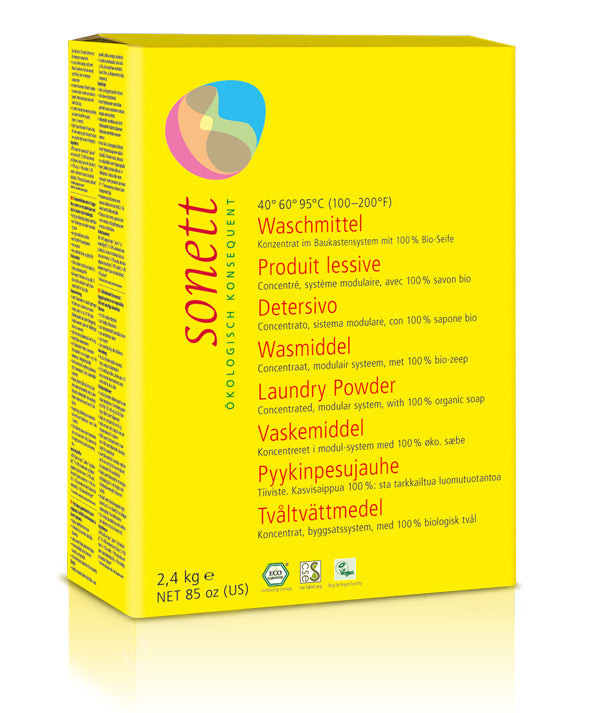 Sonett Concentrated Laundry Powder 100g
With organic vegetable oil soap, without enzymes, GMO-free
Suitable for all coloured and white textiles made from cotton, linen, hemp and fabric blends
All the oils originate 100% from organic or biodynamic cultivation
100 % biodegradable
Ranges of application


Please note this is a REFILL product and does not come in the container shown.
Suitable for all coloured and white textiles made from cotton, linen, hemp and fabric blends of between 40 and 95 °C (100–200 °F).

Suitable for HE washing machines.

Unsuitable for wool, silk, and micro-fibres. 
Product declaration
Soap derived from vegetable oils, certified organically grown >30%
Clay minerals and silicates 15–30%
Sodium carbonate 5–15%
Zeolite 5–15%
Coconut oil alcohol sulphate 1–5%
Balsamic additives, certified organically grown / 
collection from wildgrowing plants <1%
Powder humidity 10–15%



List of ingredients as per EC 648/2004

Sodium soap*, sodium carbonate, bentonite, zeolite, sodium C12–C14 fatty alcohol sulphate (sodium lauryl sulfate), sodium silicate, sodium metasilicate, sodium disilicate

*certified organically grown


Origin and properties of the ingredients
The main active ingredient of the Sonett Laundry Powder is soap, manufactured from various plant-based oils – such as palm oil, rape seed, sunflower and coconut oil – by simmering them with alkaline solution. The oils originate 100% from organic or biodynamic cultivation. Soap as an active washing substance uniquely amalgamates all of the properties required for the washing process–the moistening, dissolving, and absorbing of dirt. Sodium carbonate is a result of calcium reacting chemically with common salt. Metasilicate is obtained by melting quartz sand and sodium carbonate to form a compound. Sodium carbonate and metasilicate both intensify the washing lye, thanks to their alkalinity, and promote the removal of fatty substances in particular. Both zeolite A and phyllosilicate have silicate rock as their basic raw material. In addition to their property of binding lime in water, these substances also simultaneously bind the organic substances and colour pigments dissolved in the suds and prevent them from being deposited on the laundry. Fatty alcohol sulphate, derived from coconut oil, intensifies the soap's fat-dissolving property.