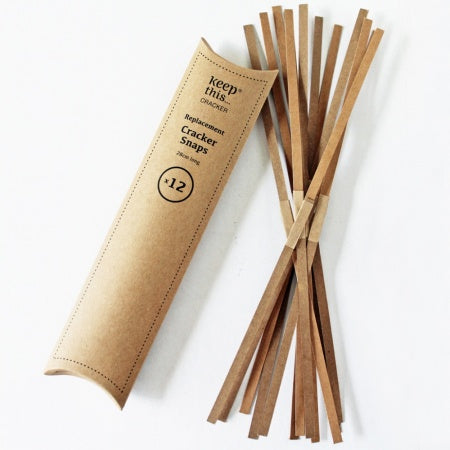 Replacement Cracker Snaps - set of 12
These sustainable, eco-friendly, refillable and reusable Christmas crackers from 'Keep this Cracker' come flat-packed and ready-made. Simply pop these reusable crackers into shape and fill them with your own special gifts. To reuse, simply pull out the old snap and fit a new one! Available in a range of festive colours and themes.
Each reusable Christmas cracker comes with a low-noise eco-snap so you can still pull your crackers as normal, just with a gentle pop - great for those with sensitive ears and pet-friendly too! But if you're all about the 'bang' then 'Keep This Cracker' works equally well with standard (noisy) snaps, available here in packs of 12. Replacement eco-snaps are available here.
Each Pack Includes: 6 x Flat-packed Crackers, 6 x eco-snaps and 12 x recycled satin ribbons. 
These come in a reusable card wallet, handy to store your crackers away for another day. 
Designed and made in the UK
Recyclable
Reusable
Pet-friendly
Low-noise eco-snaps (louder snaps sold separately)
Printed in the UK using water/vegetable based inks
DIMENSIONS (when assembled): 11 x 5.5 x 5.5cm (area for gift), 28cm long
Instructions on how to reuse below: