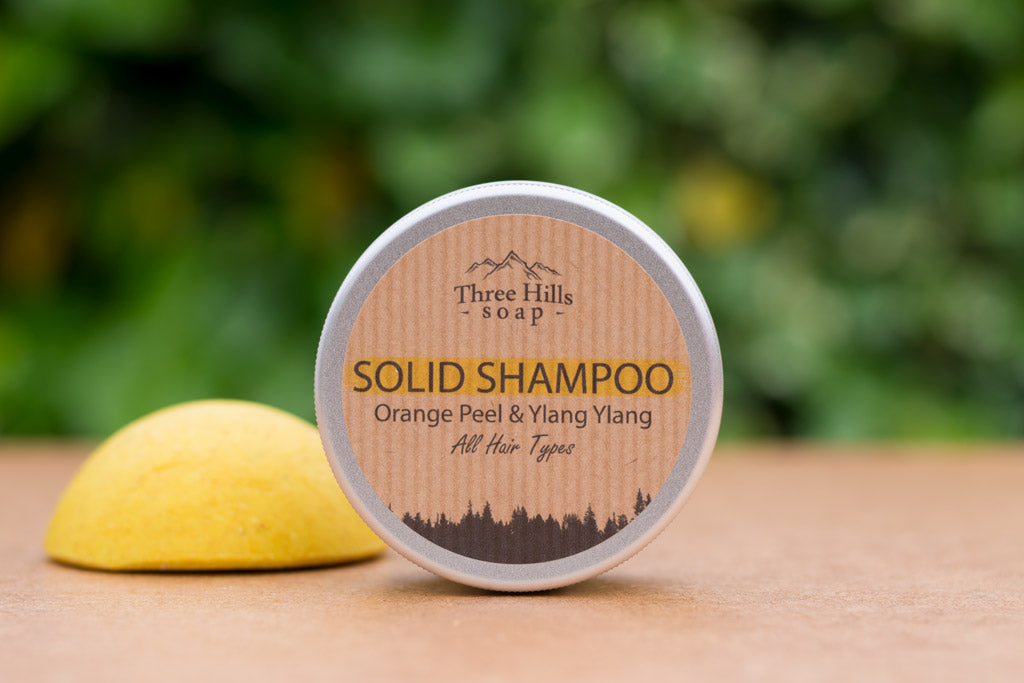 Orange Peel & Ylang Ylang Shampoo Bar - Three Hills Soap (In original tin)
Regular price €12.90 Sale
A lovely zero-waste alternative to bottled shampoo!
Thanks to the balanced pH of 5- 5.5, this solid shampoo does not need an acid rinse and won't have a transition phase! An acid pH of 4.5 to 5.5 is essential to prevent excessive dryness and hair damage during cleansing. Acid-balanced shampoos help close the hair cuticle and are recommended for hair that has been colour treated or lightened. Thanks to this pH, the shampoo reacts the same regardless of the hardness of your water.
Our concentrated solid shampoo for all hair types offers a lovely exotic scent. The combination of an intensely sweet, floral fragrance of Ylang Ylang and Sweet Orange oil's fresh, fruity aroma is complemented by Patchouli's rich, earthy aroma and, therefore, more suitable for women. We have added some Turmeric powder to brighten up blonde hair when using the shampoo on a regular basis and an Orange Peel Powder, which promotes hair shine, softness and flexibility while strengthening the hair at the same time.
Take our solid shampoo with you instead of a regular plastic bottle. They last for months, and as they are so small, they save you so much money and space and are earth-friendly, requiring minimal packaging. If you haven't experienced a solid shampoo, try one, you'll be glad you did.
No fuss, no mess. Simple, solid (SLS, SLES free) shampoo eliminates wasteful over-packaging and environmental worries in one. Perfect for anyone who loves the planet as much as their hair. This rich, solid shampoo for all hair types is not a gimmick but effectively cleanses and moisturises to leave your hair looking nourished and healthy. 
Shampoo Benefits:
Hair is clean and easy to comb

It's easy to use, its shape fits right into your palm, and it is light and very convenient for travelling, camping, or carrying wherever you wish to

It produces abundant, mild foam that is kind, even to processed hair

It's gentle on your hair and scalp

It promotes healthy and shiny hair
These shampoos are economical as each bar keeps working, lasting much longer than a bottle of liquid shampoo.
This highly-concentrated shampoo bar weighs roughly 70g (2.47oz), representing 45 – 50 washes; of course, it depends on your hair length and is similar in usage to 450-500ml (15.2 – 16.9oz) of liquid shampoo.
A solid shampoo is gentler for your hair and scalp. It does not contain propylene glycol, parabens, phthalates, Sodium Lauryl Sulfate (SLS), Sodium Laureth Sulfate (SLES), silicones or artificial fragrances, colourants and preservatives.
Active Ingredients in Shampoo:
Gentle Cleansing Agents:
SCI (Sodium Cocoyl Isethionate) is the main ingredient of shampoo. It is a natural, mild and gentle cleansing agent made from the natural fatty acids that occur in coconut oil; it effectively removes dirt and grease from the hair and scalp, resulting in a gentler finish. SCI creates a beautiful, luxurious foam without losing its mild and softening properties. We use an eco-friendly and biodegradable cleansing agent in soft and hard water.
Another ingredient in this shampoo is Sodium Lauryl Sulfoacetate (SLSA). This cleansing agent leaves a pleasant, silky feeling on the skin, preventing it from drying out or becoming damaged after washing, in contrast to the commonly used SLS (Sodium Lauryl Sulphate) or SLES (Sodium Laureth Sulfate), which are not approved for natural cosmetics. With a large molecule size, SLSA won't cause skin irritation as it cannot penetrate the skin membrane.
There are both of 100% natural origin.
Coconut Oil contributes to better hair quality by delivering shine, softness and power to damaged hair.
D Panthenol improves hair quality, increases shine to hair and reduces hair breakage as it coats the hair and seals its surface, lubricating the hair shaft and making strands appear shiny.
Wheat Protein can impart hair-repairing properties, improve the ease of hair combing and improve colour deposition and retention of dyes on hair.
Glycerine is sourced from Rapeseed Oil, and it prevents the drying of the scalp by helping to restore the skin's water.
Orange Peel Powder promotes hair shine, softness and flexibility while strengthening the hair.
Turmeric Powder brightens up the blonde hair.
Ylang Ylang Essential Oil is an effective natural treatment to reduce hair fall caused by stress.
Sweet Orange Essential Oil has antiseptic and anti-inflammatory properties and can help to renew and repair the scalp and improve hair growth.
Patchouli Essential Oil can help to treat hair loss and ward off dandruff
How to Use Solid Shampoo:
Circle the bar gently over wet hair once or twice, depending on hair length. Use sparingly – a little rub is all you need! Massage from the roots to the ends of the hair. Rinse thoroughly and condition if your hair would like a little extra love.
Please do not allow the shampoo to sit in water between uses. Store in a dry place, ideally in a soap dish.
Packaging: Aluminium Tin
Shampoo Bar Weight: 70g
Ingredients: SODIUM COCOYL ISETHIONATE, SODIUM LAURYL SULFOACETATE, AQUA, COCOS NUCIFERA OIL, GLYCERIN, HYDROLYZED WHEAT PROTEIN, PANTHENOL, CITRUS AURANTIUM DULCIS PEEL POWDER, CURCUMA LONGA ROOT POWDER, CANAGA ODORATA (ylang ylang) LEAF OIL, CITRUS AURANTIUM DULCIS (sweet orange) PEEL OIL, POGOSTEMON CABLIN (patchouli) LEAF OIL, Naturally Occurring In Essential Oils (Citral, Geraniol, Limonene, Linalool)