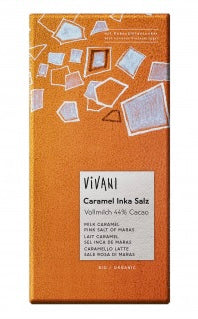 Milk Chocolate Bar with Salted Caramel and Pink Salt - 80 g
Plastic-free chocolate bar?!?!  Sound too good to be true?  But wait, there's more!
This delight is composed of fine milk chocolate with 44 % cocoa, crunchy caramel crisp, lightly toffee tasting coconut blossom sugar and exclusive pink salt of Maras.  This special inca salt from the Peruvian Andes combined with sweet caramel creates a very unique explosion of taste on the tongue.  We are taste-testing the first bar as we write this, and fear not, it passes the test with flying clouts!
 The outer wrapper is made from recyclable paper.  And the freshness is preserved by a clever inner wrapping that is sustainable, plant based and is completely home compostable!   Vivani says that with your purchase you support their commitment against child labor in cocoa cultivation as well as their manifold commitment to certified raw materials obtained from sustainable cultivation.
Ingredient
coconut blossom sugar* 31 %, cocoa mass*°, cocoa butter*°, whole milk powder*, caramel crisp* 10 % (raw cane sugar*, corn glucose syrup*, butterfat*, sea salt) creampowder*, pink inca salt 0,5 %, bourbon vanilla extract*
Cocoa solids: 44 % minimum
Milk solids: 17 %
May contain components of tree nuts and gluten.
* from organic agriculture
°Rainforest Alliance Certified
DE-ÖKO-013
Origin: Germany
Best by: 09/23
Lot: L22133