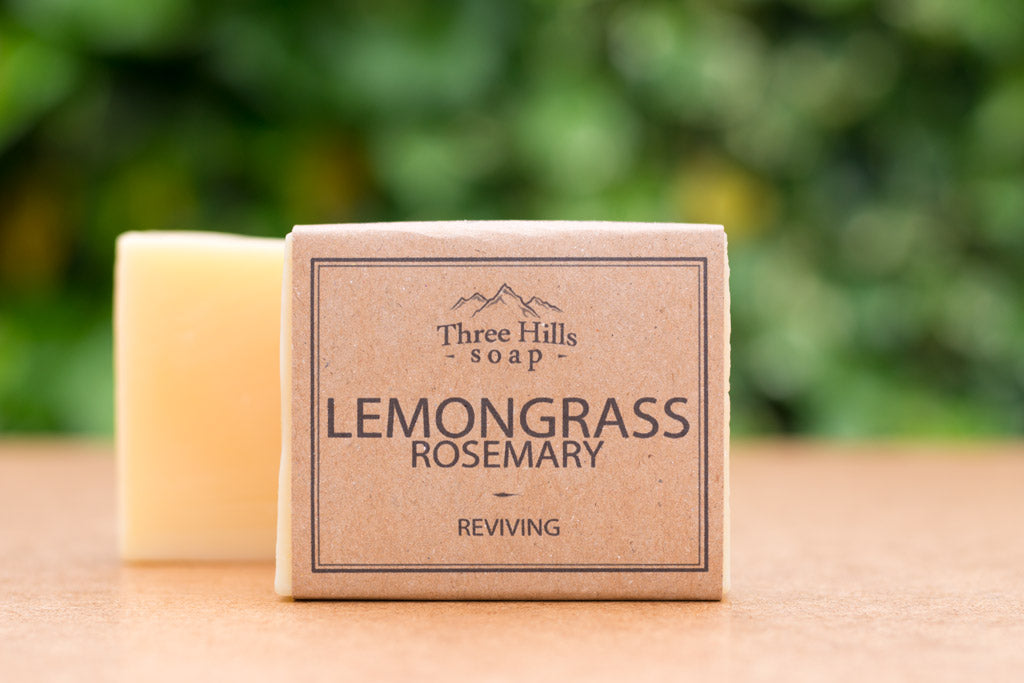 Lemongrass & Rosemary Bar - Three Hills Soap
Lemongrass Soap – handmade, natural soap scented with 100% pure lemongrass essential oil and a hint of rosemary essential oil.
Add a little spring to your step with our revitalising Lemongrass soap – a specially formulated soap for the face and body to truly cleanse and refresh your skin.
We all recognise the flavour of lemongrass in those tasty spicy Thai soups. But have you ever tried it in the shower? Indeed, I don't talk about soup anymore. Here and now, it's the right time to broaden your horizons and let you experience that fresh, citrus aroma with earthy, green, lush undertones on your own skin and maybe in your own shower too.
Would you like to use a bar of soap that not only beautifully smells but has many other benefits? Yes, it is still the lemongrass soap we are discussing!
Here are some amazing benefits of Lemongrass soap:
Lemongrass soap is used as a body, hand, and face soap.

It helps improve the skin by toning tissues and reducing pimples, so this soap bar might help fight acne.

A gentle soap that's good for all ages.

Great for all skin types, but best for oily skin.

Lemongrass has a mild astringent action that helps to open pores.

Rosemary oil also has got astringent properties that unclog the pores.

Lemongrass is unique for the skin as it balances its natural oils, making it healthier.

Lemongrass is a refreshing, uplifting essential oil that energises the mind and body.

It has antibacterial and antifungal properties and is an effective deodorant.

The concentration of natural vitamins and fatty acids in organic shea butter makes our Lemongrass soap nourishing and moisturising.
This is the all-natural soap bar to reach for when you're feeling worn out and need rest, or it is ideal for your morning shower so you can face the busy day head-on. Whether you use this soap for different reasons, one fact is certain: Lemongrass Rosemary soap will surely become one of your favourites.
Lemongrass Rosemary soap bar comes in eco-friendly, 100% recycled & recyclable brown paper packaging and is fastened with a seal made from cellulose that is fully biodegradable and compostable.
NO Artificial Colours or Fragrances

NO Harsh Chemicals

NO Parabens

NO Detergents (SLS/SLES)

NO Alcohol

NO Petrochemicals
Weight: 100g / ± 5%
Ingredients: SODIUM COCOATE (coconut oil), SODIUM OLIVATE (olive oil), SODIUM SHEA BUTTERATE (shea butter), AQUA (water), SODIUM RICATE (rice bran oil), GLYCERIN (vegetable), SODIUM SWEET ALMONDATE (sweet almond oil), SODIUM CASTORATE (castor oil), PARFUM (pure essential oil blend), TOCOPHEROL (vitamin e oil), CORNSTARCH ZEA MAYS (corn starch), ROSMARINUS OFFICINALIS (rosemary) LEAF EXTRACT, ALCHEMILLA VULGARIS (lady's mantle) LEAF EXTRACT, Naturally Occurring In Essential Oils (Citral, Citronellol, Eugenol, Geraniol, Limonene, Linalool)