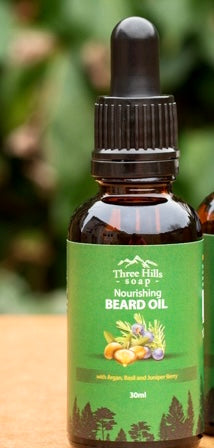 Beard Oil with Argan, Basil & Juniper Berries - Three Hills Soap
Regular price €12.00 Sale
Beard Oil is beneficial not only to your facial hair but, most importantly, to the skin underneath. Maintaining hydrated and smooth skin under a beard is just as important as keeping that facial hair shiny and under control. By keeping the skin healthy, that dreaded beard itch and 'beardruff' will be a thing of the past. You will also see a noticeable difference in the hair as it becomes soft, shiny and smooth.  
Secondly, a little side benefit of Beard Oil is its ability to act as a natural cologne for men, scented with beneficial essential oils; this oil will keep you and your beard smelling clean and polished all day.
Thanks to the content of high-quality vegetable oils (made with Jojoba oil, Almond oil, Castor oil, Apricot and Argan oil) and essential oils ( Juniper Berry, Basil, Clary Sage and Lime), it treats the skin under the stubble, it is antibacterial, it prevents the loss of hydration, which prevents the skin from drying out, which is a common cause of itching.
How to Use Beard Oil:
Spread a small amount of oil (a few drops) in the palms and massage gently into the beard and facial skin for a more beautiful appearance and better shape.
Store in a dry, cool and dark place.
Packaging: 30 ml Glass Bottle with Pipette 
Safety Note:
Please perform a patch test before use to test for irritation. If irritation occurs, discontinue the use of this product immediately.
For external use only.
The Oil is vegan, handmade, all-natural and not tested on animals.