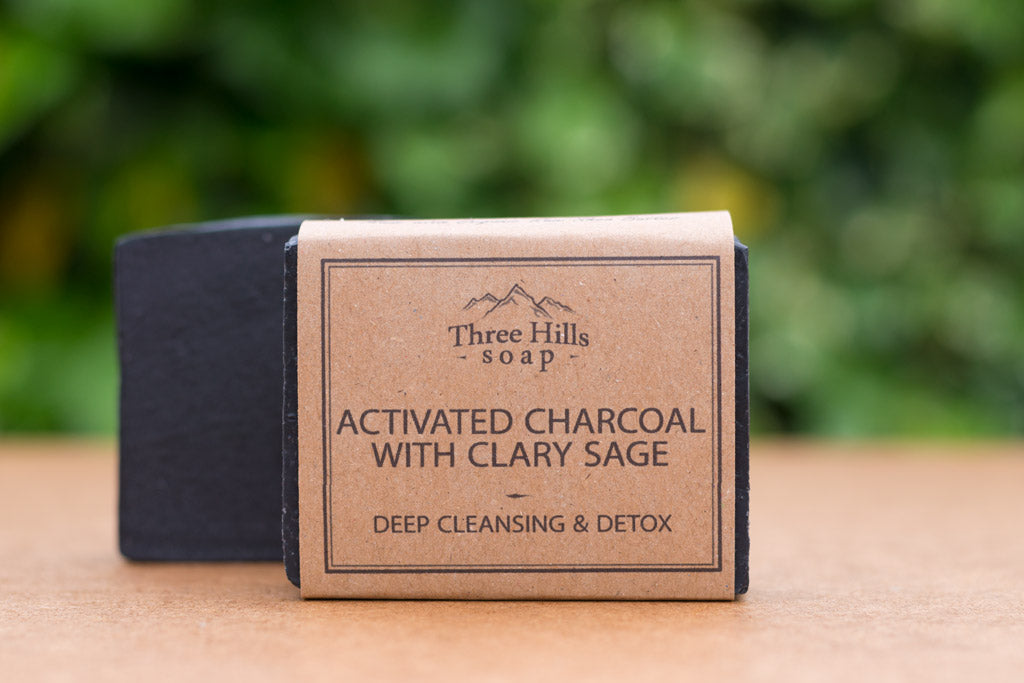 Activated Charcoal & Clary Sage Bar - Three Hills Soap
This handmade, natural soap was built for function, scented with 100% pure natural Clary Sage essential oil, so no frilly fragrances here. I think it's a delightful aroma – a musky, bittersweet floral scent that synergises very well with the activated charcoal.
This Activated Charcoal soap is for you! Please feel free to banish the blemishes with the antibacterial properties of this lightly exfoliating natural soap. Our Activated Charcoal soap, with Clary Sage oil, is designed to cleanse deep and detox your skin. No wonder it's a number-one seller from our collection of soap bars!
For those of us with oily skin and acne, some microscopical creatures (I mean all the bacteria, fungi, and viruses), which are the underlying problems for countless skin conditions, are a constant companion, and the damage done by our little friends haunts us day and night. That's why this handmade soap is designed for frequent use on the face by those with oily, combination, and acne-prone skin. Teenagers might appreciate it as well…we hope so. Normal to dry facial skin generally likes this soap for a weekly deep clean. So, lather up and enjoy this natural soap's instant relief to your irritated skin.
So what are the main skin benefits of activated charcoal soap?
It makes pores smaller and cleaner.


Activated charcoal binds to and helps pull the dirt out of your pores, making them less visible (the oil and dirt make them appear bigger). It acts as a magnet to attract and absorb dirt, toxins, oil and other harmful impurities, which wash away when you rinse.

Takes care of oily and combination skin.


Activated charcoal can pull the unwanted excess oils from your skin, leaving it smooth. Clary Sage essential oil has astringent properties and is beneficial for oily skin.

Treats acne.


Depending on the specifics of your acne, how severe it is, what's causing it, and what else is going on, activated charcoal soap may be able to help. In soap form, it's slightly gritty, which might provide just the gentle exfoliating you need. It will also absorb oils and toxins on and below the skin and eliminate acne.

Deeply cleans your skin.


It gives an excellent deep cleanse while also naturally exfoliating. Because toxins stick to the activated charcoal, it makes a good candidate for a deep cleanser and detoxifier.
The black colour of the soap comes purely from the addition of cosmetic-grade charcoal. Get rid of dirt with this black soap; your skin will be 'deep down clean' and as good as new.
So, if germs compromise your sanity, send your chemical-ridden deep cleaners on a bit of vacation and grab a bar of our Activated Charcoal soap full of natural ingredients and go crazy. This soap bar looks great by your bathroom sink and feels even better on the skin.
Activated Charcoal with Clary Sage soap comes in eco-friendly, 100% recycled & recyclable brown paper packaging and is fastened with a seal made from cellulose which is fully biodegradable and compostable.
NO

Artificial Colours or Fragrances

NO Harsh Chemicals

NO Parabens

NO Detergents (SLS/SLES)

NO Alcohol

NO Petrochemicals
Weight: 100g / ± 5%
Ingredients: SODIUM OLIVATE (olive oil), SODIUM COCOATE (coconut oil), SODIUM SHEA BUTTERATE ( shea butter), AQUA (water), SODIUM COCOA BUTTERATE (cocoa butter), GLYCERIN (vegetable), SODIUM AVOCADATE (avocado oil), SODIUM CASTORATE (castor oil), PARFUM (pure essential oil), CARBON BLACK (activated charcoal), TOCOPHEROL (vitamin e oil), ZEA MAYS (corn) STARCH, Naturally Occurring In Essential Oil (Geraniol, Limonene, Linalool)