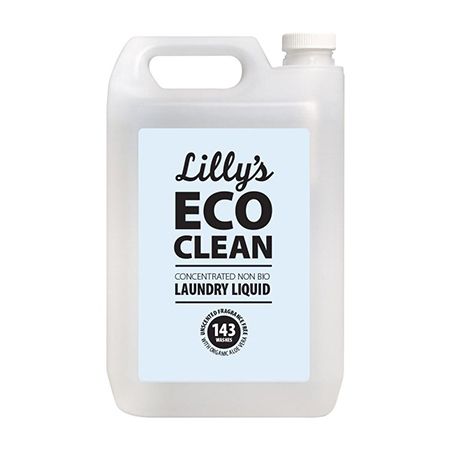 5 Litre Refill of Non Bio Unscented Concentrated Laundry Liquid - Lilly's Eco Clean
Regular price €33.25 Sale
Order in 5 Litres and save 5%!
*Please note that we can provide this 5 Litre refill in your own containers, or in 5 litre plastic jugs that have been previously used for body care liquids*
Lilly's Non Bio Laundry Liquid is made of the finest plant based ingredients which are safe for you and the environment. NO colourings, NO synthetic perfumes or fragrances, NO enzymes, NO optical brighteners, NO bleach -only natural washing power & pure gentleness of Organic Aloe Vera Juice!

How to use
Pour the required measure as per the guideline directly into drawer. Always check the garment's care label and follow washing instructions. Great also for handwashing, soaking & so good for wool and silk too. For stains: rub a small amount of the Laundry Liquid on stains before washing for best results. For very dirty washing and whites, higher temperatures will help for better results.
Ingredients
>30% Water, 5–15% Anionic Surfacants, Non-Ionic Surfacants and Amfoteric Surfactants, Sodium Citrate, Propylene Glycol, Table Salt, Aloe Barbadensis, Natural Essential Oils, Preservative (Benzolisothiazolone (and) Methylisothiazolinone (0.01%)).
Made in Dublin.
Please note that this is a refill product and does not come in the packaging shown.
Please note this product is only available for personal delivery or collection. It cannot be delivered by courier.