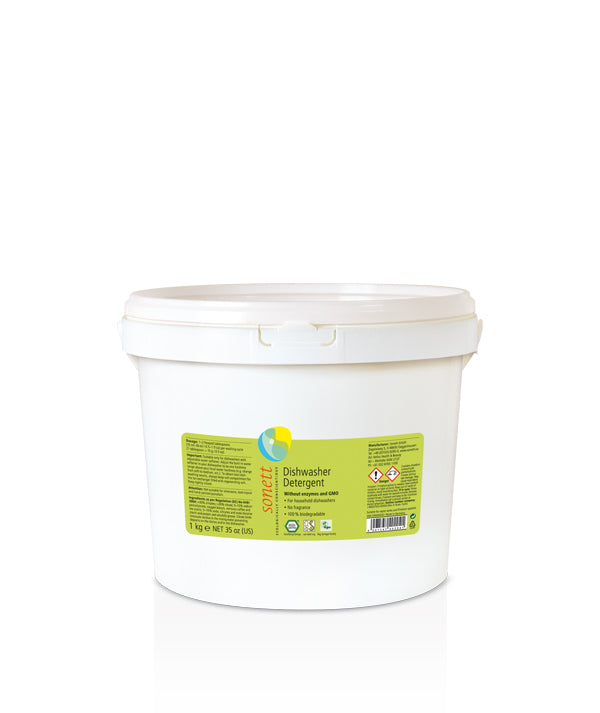 Sonett Dishwasher Powder 100g REFILL
Without enzymes and GMO
For household dishwashers
No fragrance
100% biodegradable
Special product feature
Notwithstanding the fact that, for this product, we abstain from using any aggressive chlorinated bleaching agents, phosphates, synthetic protective substances for silverware, enzymes, etc, it cleans even stubborn dirt with exceptional ease.  
Ranges of application
Finely grained concentrated powder. Suitable for all household dishwashing machines up to 75 °C (167 °F).
Application
Finely grained concentrated powder. Suitable for all household dishwashing machines up to 75 °C (167 °F).
Only to be used for dishwasher-proof crockery. Not to be used for silverware, lead crystal glass and hand-painted chinaware.
Dosage
15–30 ml (0.5–1 fl oz US) per washing cycle
Important note to ensure good dishwashing results: Adjust the built-in water softener in your dishwasher to be 8 °dH (German degrees) above your local water hardness.
For doing so, please consult the Instructions for Use of your Dishwasher.
Product declaration
Silicate >30%
Citrate >30%
Sodium percarbonate 5–15%
Sodium carbonate 5–15%
List of ingredients as per EC 648/2004
Sodium silicate, sodium citrate, sodium percarbonate, sodium carbonate, sodium metasilicate
Further information on INCI names ‣
Danger symbol
Danger
Contains disodium metasilicate pentahydrate. Causes serious eye damage. May cause respiratory irritation. If medical advice is needed, have product container or label at hand. Keep out of reach of children. Avoid breathing dust. If in eyes: Rinse cautiously with water for several minutes. Remove contact lenses, if present and easy to do. Continue rinsing. Immediately call a poison center or doctor/physician. Dispose of contents/container according to the local/national regulations.
Origin and properties of the ingredients
Silicates are obtained by fusing sand with sodium carbonate and, thanks to their alkalinity, are capable of modifying grease on dishes by saponification, thus making it water-soluble. These silicates make stuck-on food leftovers swell, thus loosening them. Sodium carbonate, manufactured from common salt and lime, disperses the grease into fine droplets, thus supporting the fat-dissolving property of the silicates. Citrate, obtained by fermenting sugar-containing by-products such as molasses, is added to the dishwasher detergent in order to bind lime in the dishwashing water and to protect the machine from deposits, since it is a well-known fact that many dishwashers do not soften the water sufficiently, despite built-in ion exchanger (water softener devices).  
Technical data
Density: 20 °C approx.0.98 g / cm³
68 °F approx. 0.034 oz / in3
pH value:  20 °C, 5 g / litre  H₂O
68 °F, 0.18 oz / 34 fl oz US H₂O approx. 10–11
Keep tightly closed.