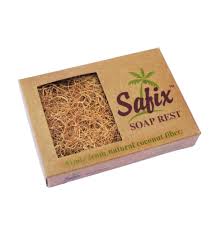 Safix Soap Rest
The Safix soap rest is a unique soap dish made from natural coconut fibre bound together with a non-toxic adhesive. This soap dish is an excellent soap rest in the sink, bath or shower.
The Safix soap rest allows water to drain away and eliminates the soap scum associated with conventional soap dishes.
It is very clean and can be used to clean the sink effectively without the need for cleaning products. 
Soap dishes are a MUST when using soap. It keeps your soap dry between uses and helps your soap bar last longer.