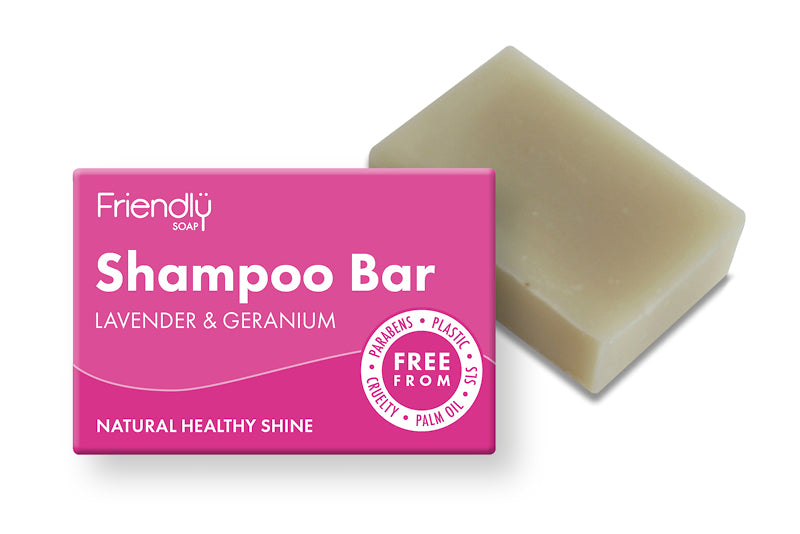 Friendly Lavender and Geranium Shampoo Bar
Friendly make this Lavender Geranium Shampoo bar with castor oil because it's been used for centuries as a natural conditioner and scalp treatment. To make it even better, they add coconut and olive oils for the rich, nourishing and moisturising qualities they bring to the party. Last but not least, essential oils of lavender and rose geranium help reduce stress and boost antibacterial performance, making this product a true all-rounder.
Oh, and did we mention that it's long-lasting and conveniently compact, or how it promotes healthy hair growth as well as taming the wild stuff that's already there? Yes, all that too.
Each Lavender & Geranium Shampoo bar is handmade with coconut oil, castor oil, olive oil, lavender & geranium essential oils.
You won't find even the smallest smidgen of palm oil, parabens, sulphates, triclosan or phthalates in any of their soaps. The plastic-free boxes are recycled and recyclable, and they're also registered with The Vegan Society and Cruelty Free International. They've even earned a 'Best' rating with Ethical Consumer, so you can enjoy a spotlessly clean conscience.
Ingredients: Sodium cocoate, Sodium olivate, Sodium castorate, Aqua, Lavandula angustifolia (lavender) essential oil contains linalool, limonene, geraniol, Pelargonium graveolens (rose geranium) essential oil contains geraniol, citronella, linalool