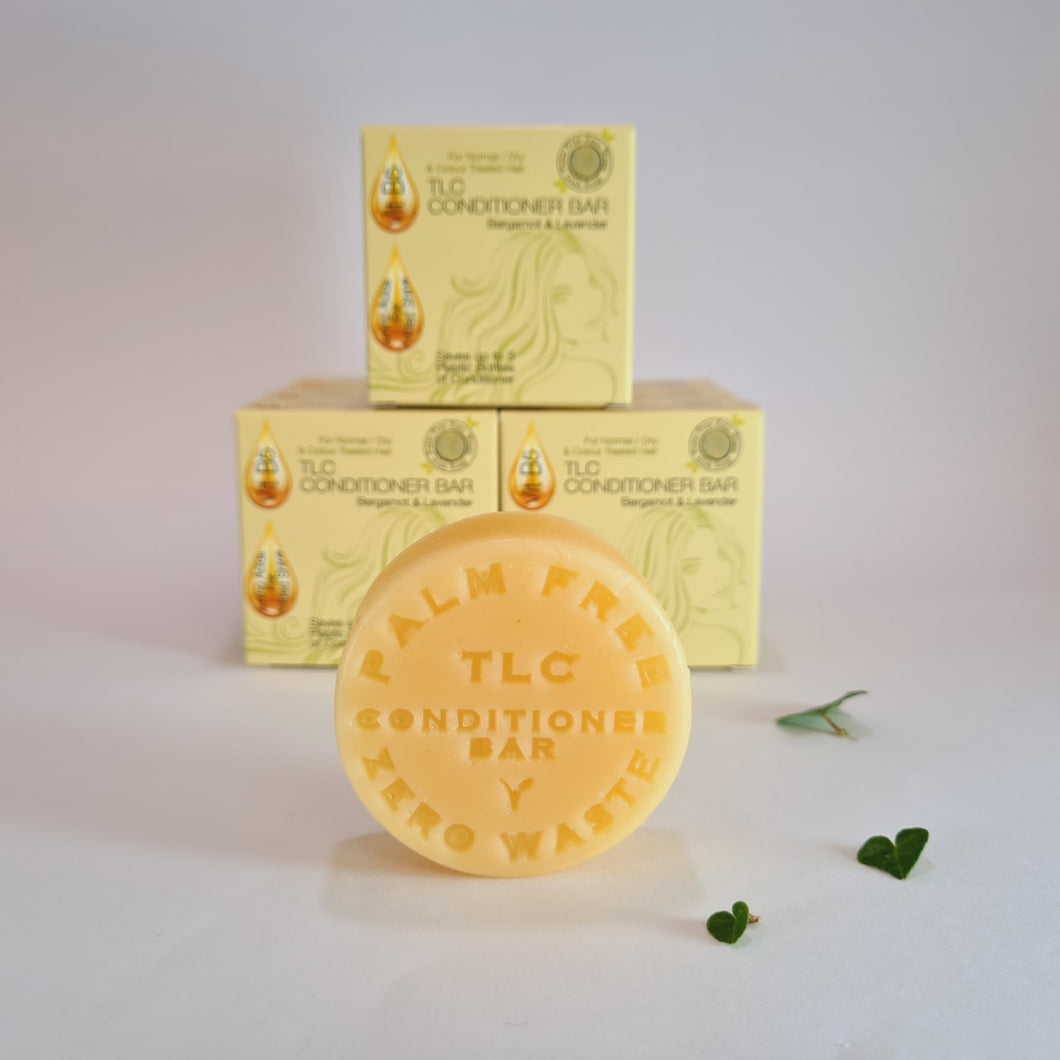 Silky Soft TLC Conditioner Bar by Palm Free Irish Soaps
Regular price €10.00 Sale
Whatever mood your hair is in, our NEW TLC Solid Conditioner Bar has been developed to ease out those knots and condition each strand of your hair, leaving it soft, shiny and tangle-free. Moisturizing cocoa butter & Volumising Rice Protein are just some of the ingredients you'll find in these hair-caring bars.
All of our ingredients are traced back to source, to ensure we maintain our 100% Palm Oil Free ethos.
FREE FROM SLS's – PARABENS – SILICONES
For all hair types including normal, dry and coloured/treated hair
Formulated with salon equivalent, high quality ingredients, minus the junk.
Mild, gentle conditioning ingredients, formulated using cutting edge Green Chemistry!
ORGANIC Butters moisturise and nourish hair & scalp.
PRO-Condition 22 ensures tresses are left feeling nourished and silky smooth.

Active ingredients Panthenol and Amino Rice protein work together to protect, strengthen and hydrate hair.
Natural detangling action promotes silky, smooth hair.
Effectively balanced to keep hair in its optimal pH range.
Works well in hard water areas.
Extremely Long lasting, Economical & Travel Friendly.
Gently scented with a fresh blend of Organic Lavender, Organic Lemongrass & Bergamot Pure Essential Oils!
Plastic Free, Palm Free and Preservative Free.
100% Vegan
Hand-made and Hand-stamped in small batches.
Is the equivalent of up to 1⁄2 litre of liquid conditioner.
Can SAVE UP TO 3 PLASTIC CONDITIONER BOTTLES going to landfill
Important Note:
24 hours before using for the first time, please perform a patch & strand test on a small inconspicuous area. Should irritation occur, please discontinue use immediately.
Always Keep Away from eyes! Should contact occur, rinse thoroughly with warm fresh water